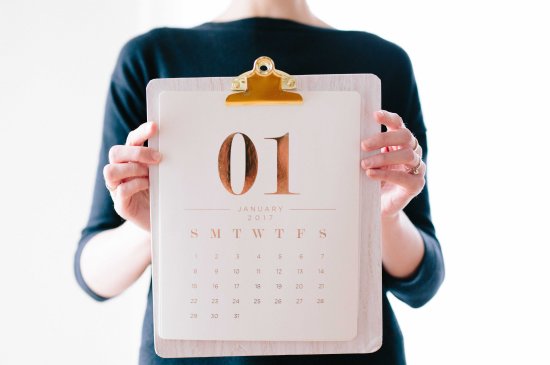 The year 2017 is behind us and with it went a year of triumphs and disappointments. If one of your regrets from last year is problems with your credit score, 2018 represents the opportunity for a fresh start. If you're ready to improve your credit, consider making some New Year's resolutions targeted at better finances and a stronger credit report. For those coming out of bankruptcy, now's the time to get better credit. Here are a few tactics to consider for a better credit score in 2018.
Resolution #1 - Get Organized
Missing payments on bills and debts can ding your credit score unnecessarily. Trying to keep track of all your bills without a system isn't wise. Without organization, it can be hard to stay on task and always pay on time. Missing even one payment can hurt your credit score.
Here are some tips to help you get (and stay) organized:
Set e-reminders for your bill due dates using your smartphone or email.

Sign up for text and email reminders from your card issuers, utility providers, and other creditors.

Set up automatic payment for recurring bills.

Reinforce your digital system with a paper calendar or roster in a prominent place.
Resolution #2 - Set a Budget
As the popular saying goes, failure to plan is planning to fail, and the same applies to your finances. Setting a budget offers insight into where your money goes and opportunities for saving. Before you set your budget, track your spending for a month to assess and set parameters.
If you're not sure where to start, Consumer Credit offers free online resources. If you prefer videos, Dave Ramsey offers a series of YouTube videos on budgeting and money management. There are also tons of low-cost and free budgeting tools for your smartphone.
Resolution #3 – Make a Plan For a Significant Purchase
Most people plan to buy a home and late model car at some point in their lives. While you need good credit to get a mortgage or car loan, getting a mortgage or car loan can also improve your credit. Having an installment loan on your report improves your mix of credit.
Replacing rent payments with a mortgage means you'll have a home to call your own and a boost to your credit. If you don't currently own a home, but want to, 2018 is the time to make a plan. Investigate your mortgage options, start saving for a down payment, and move forward with your finances.
Resolution #4 - Minimize Interest Payments And Fees
Interest payments on credit cards are unnecessary expenses. As a rule, you should never charge something that you can't pay off the same month. If you pay down your credit card balance before your statement issues, you should be able to avoid interest charges.
Also, letting bank balances drop below minimums or paying any bill late can result in fees charged. Avoiding interest and fees means more money in your pocket that can go into savings, your emergency fund, or towards saving for a mortgage or car loan deposit.
Resolution #5 – Monitor Your Credit Reports
Before you improve your credit, you need to know where you stand. You can easily assess this by reviewing your credit reports from all three credit bureaus – Experian, TransUnion, and Equifax. You can get one report each year for free, but that's not enough.
Consider signing up for a low-cost monitoring service that will notify you of changes to your credit reports whether it's good, bad, or just informative. This allows you to keep an eye on identity theft, fraud, and to track positive changes in your score so you can pat yourself on the back.
If you're ready for a better credit score in 2017, give Credit Score Keys a try!