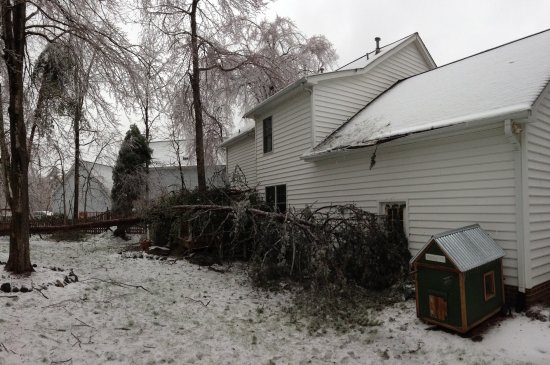 Any natural disaster brings out scammers and thieves intent on leveraging fear to line their pockets. Today we'll look at a type of fraudster called a "storm chaser." One
recent scam
has swept the South in the wake of winter weather woes. A company called American Shingle, operated by Carlton Dunko, Frank Pureber and Richard Steffy are under investigation by several state attorney generals. They are being accused of cheating customers in Missouri, North Carolina, South Carolina, Kentucky, Ohio, Florida and Georgia. Today we'll show you how to be on the lookout to protect yourself from
similar scams
.
A weather related scam
Chief Counsel Joe Bindbeutel
of the Missouri Attorney General's office said, "They went to people's homes after very serious of thunderstorms, where people had structural damage. They would talk about repairing roofs, high quality work, immediate repairs, they go over the forms, talk to your insurance companies, got you to sign forms - and it turns out, they got your insurance check and walked away, doing no work on your roof." More than half a dozen states are taking legal action against American Shingle and its owners.
How to protect yourself
Beware of people that come knocking at your door after a disaster or damaging weather event. They may tell you that your neighbors are also working with them and that you'll get a discount for working with them since they're doing a volume of work in your neighborhood. It may be true that a neighbor hired them or it may be an outright lie. Either way, doorstep solicitation is not the way to find a reputable contractor to repair your home.
Instead, do some research on Yelp and look for contractors with lots of positive reviews. Then check the Better Business Bureau to see if there have been complaints filed against them. Thoroughly vet any firm you're considering and also request references. Check the
North Carolina licensing board
for general contractors to make sure they're fully licensed. Then request information on their surety bond and commercial insurance and call the carrier to verify the coverage is current and covers work they will do on your home.
Don't pay up front and get it in writing
Even after you kick doorstep scammers to the curb, you should take further steps to protect yourself. In addition to checking out any firm you're considering using, never pay upfront for repairs. Never give more than a one-third down payment and don't pay the balance until all work is completed. Ask for an agreement in writing that covers the scope of the work to be done, when the work will start and when it is guaranteed to be finished.
If you are filing an insurance claim, make sure the contractor you're using and the scope of repairs align with what your policy covers. Do not give the contractor your insurance check. If the check is made out to you, deposit it and write a check to the company so that you have recourse if they cash your check then fail to show up. And if your insurance company insists on paying the contractor directly, don't sign off on this until the work is complete. And if you have been taken advantage of, contact the
North Carolina Department of Justice
to file a claim.
Please read the original post on our affiliate site,
BillsBills.com