Why is a credit score important?
A credit score is very significant because it represents a grading scale on the type of the creditworthiness of a specific person. In the United States, a credit score is a number based on a statistical analysis of a person's credit purchases. These payment history of these purchases are then examined and thus produces the creditworthiness of that particular person. In other words, a credit score illustrates the likelihood of whether or not a particular person will be able to pay their bills. In addition to, a person's income is not considered when calculating a credit score. This information is presented in a credit report from one of 3 major credit bureaus,
Experian
,
TransUnion
, and
Equifax
.   Being able to rebuild your credit score is very important for those who are just coming out of a bankruptcy and no longer have dischargeable debts. These same people are free to pursue their dreams of obtaining a home, a car, or other personal financial loan. However, if you are just coming out of a bankruptcy, then your credit score is down but not out and your dreams are thus put on hold. However, Credit Score Keys can put you back on track to accomplish your life goals with our credit building service.   Credit Score keys was founded to help those who have come out of a bankruptcy be able to rebuild their credit so those dreams won't be put on hold. No matter what age you are or where you are in life, people have goals of marriage, starting a family, home ownership, vehicle ownership, continuing education etc. We want you to be able to achieve these goals and that's why rebuilding your credit score is so important. A high credit score determines the kind of interest rate that will be available to you. For example, every 1% point on a thirty year mortgage is equivalent to 25% of the amount financed of a $100,000.00 loan at 7% will cost you $25,000.00 more over thirty years than $100,000.00 at 6%. It cost far more to do nothing about your credit score than it does to complete our credit building program.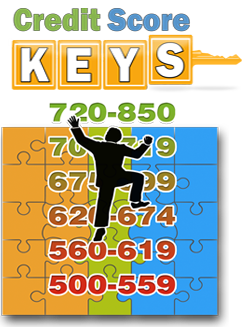 Ready To Rebuild Your Credit?
Credit Score Keys can help rebuild your credit score after bankruptcy. Need to qualify for a home mortgage loan, car loan or a personal loan? Credit Score Keys credit rebuilding tutorial videos can help you rebuild your score to 700 or higher!
Get Started Now!