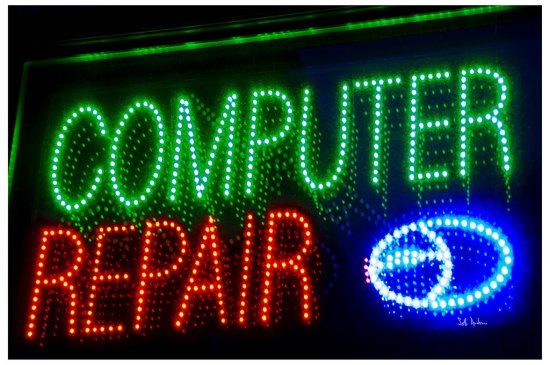 We like to keep our readers and clients
informed of any scams
that can cost them money, their personal information, mess up their credit rating or get them deeper into debt. Today we bring you a scam that's hitting consumers in Garner and other nearby areas including Raleigh, Apex and Fuquay-Varina. Attorney General Roy Cooper announced in May that his office has obtained a court order to stop a local computer shop from taking advantage of customers. The business to avoid (according to Cooper) is Raleigh Geeks – also known as Caveman Computers, ProTech Computers and Fuquay Computer Center.
What Raleigh Geeks in Garner (and other locations) has been accused of:
North Carolina AG Cooper filed a lawsuit against Raleigh Geeks (and all its other names) after 24 consumer complaints had reached his office accusing the computer repair biz of misleading customers about repairs and failing to give customers back their computers after repairs were made. The lawsuit seeks a permanent ban against the Garner firm for deceptive practices engaged in by the owners and managers, refunds for scammed consumers, return of computers to all clients and any applicable civil penalties.
What the State Attorney General has done to protect consumers:
Cooper's office has obtained a court order against Raleigh Geeks and its other businesses to stop collecting money from customers or entering into any contracts for computer repairs. Cooper announced in a North Carolina Department of Justice release, "Taking money upfront, keeping someone's computer for months and then giving it back still broken is no way to do business. Customers who paid for repairs that never happened deserve their money and their computers back."
What has happened to consumers in Garner, Raleigh and other local areas:
Owners and managers including Steven Leo, Garret Foster and Timothy Staie were specifically accused by Cooper of taking upfront payments, then not completing work or not completing it in the promised time frame. Consumer complaints to Raleigh Geeks were either ignored or they were stalled and the work was still not performed. Many consumers found that their computers were worse after the computer shop "repaired" them and some were even given back different computers than they had turned in for repair and the company lied to customers and insisted it was the original computer.
What you should do if you were a victim of one of these companies:
If you are a Garner or Raleigh area consumer that had a less-than-satisfactory experience with Raleigh Geeks, Caveman Computers, ProTech Computers or Fuquay Computer Center, contact the
North Carolina Department of Justice
online to file a complaint or call Cooper's office at 877-5-NO-SCAM. Cooper says, "When you pay someone for repair work, you expect to get your property back on time and in working order."
How to prevent being taken advantage of for repair services:
If you need a repair on your computer, car or any other type of service work done, there are steps you should take to minimize the chances of being ripped off. First, check out the provider before you contract with them. Check them out on the local
Better Business Bureau
website and also on Yelp to check for
unsatisfactory customer reviews
– Raleigh Geeks is poorly rated on both reviews. Also, don't prepay. You should only pay once you are sure the promised repairs have been made.
If you drop off an item for repair – like your laptop or desktop – turn it on at the shop before paying to check it out and make sure it is working properly and the repairs are complete. If it's your car, crank it and insist that you get a test drive with the mechanic before you pay. If it's an item at your home – A/C unit, dishwasher, etc – give it a try before you pay and the repair person leaves. Also, it's best to pay by credit card rather than cash or check because if the repairs aren't done properly, you can dispute the transaction with your card issuer.