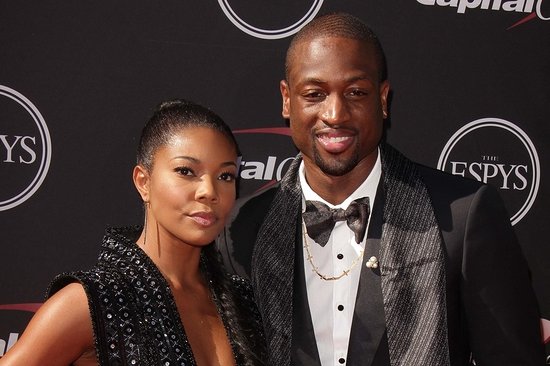 If you're a fan of hoops, you know the name Dwayne Wade. The 6'4" NBA guard plays for the Miami Heat and rakes in nearly $19 million a year in salary alone and another $11 million annually in product endorsement fees. He ranks #55 on the Forbes list of most powerful celebrities and is married to actress Gabrielle Union who herself has a net worth of around $12 million. So with all this money floating around, why is Wade facing foreclosure on a $1.2 million home?
That house price may seem extravagant to most of us, but for someone making $30 million a year, that's a drop in the bucket. The home in question is a nearly 8,000 square foot home in the South Holland area of Chicago where he lived with his then-wife Siohvaughn Funches and their two sons. The answer to this financial conundrum is a D-I-V-O-R-C-E. The break-up of a marriage causes
money problems for celebrities
and regular folk alike.
Dwayne Wade's Marriage Woes and Money
Wade and Funches were high school sweethearts that married in 2002. They split five years later and then battled over their finances for another three years before getting their official divorce in 2010. In 2011, Wade got sole custody of their two children. Funches got the Chicago house, along with the remaining $200k mortgage balance but she also got monthly payments and cash that worked out to about $5 million.
Despite monthly support payments of roughly $25,000 a month in spousal support, it seems his ex did not make the mortgage payments on her home and now Wade is listed in the foreclosure action since he's likely still listed on the original loan agreement. When the
foreclosure news
broke, Wade's attorney released a statement saying:
"Dwayne Wade and his ex-wife Siohvaughn Funches reached a financial settlement in July 2013, which included Ms. Funches being awarded the Chicago home in which she resides. Mr. Wade had provided a very generous settlement to Ms. Funches to continue to live a wonderful lifestyle and maintain the home mortgage payments he previously paid before the settlement was reached. As the sole homeowner, Ms. Funches defaulted on the mortgage and the home is now under foreclosure with the bank. We will take the necessary measures to affirm Mr. Wade is not responsible for the home's foreclosure since he was absolved of all financial responsibility when Ms. Funches was awarded the house."
When Divorce Documents Don't Change Finances
No matter what the lawyer said in his statement, Wade may, in fact, still be financially on the hook for the home. Why? Unless his wife refinanced after the split (which it appears likely did not happen), he is still financially culpable. There are two different components at play here. Even though the divorce papers awarded the home and associated mortgage payment to Funches, that doesn't undo the
original loan documents
which means Wade can be pursued for any deficiency amount resulting from the foreclosure and will likely take a hit to his credit as well.
How to Protect Yourself from Money Problems After Divorce
The best way to protect yourself from money problems after a divorce is to address them before your split is finalized. In Wade's instance, he should have made sure his ex-wife
refinanced the house
so that it was her asset and responsibility and he wasn't tied to it. If you are considering a break from your spouse, you need to get your finances sorted out pronto. If one of you is keeping the house or a car that's not paid for, refinancing is the way to go to get a clean financial break. And if you're deep in debt that you can't pay, filing bankruptcy prior to filing divorce can give you both a fresh financial and personal start.