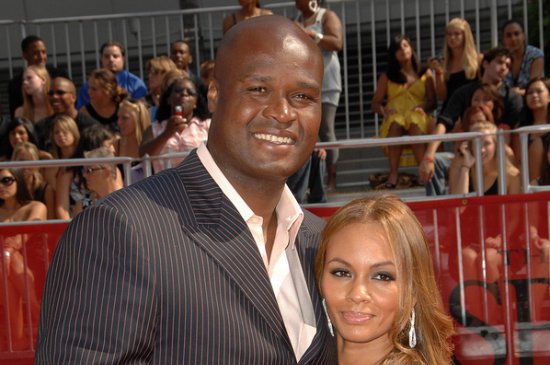 We like to cover
celebrity bankruptcy
here to show how no matter what you earn, the same money problems can get the better of anyone. Today we take a look at retired NBA power forward Antoine Walker who filed bankruptcy, pulled himself through it and is now encouraging other professional athletes in financial literacy to avoid the financial troubles he's endured.
As part of his efforts to encourage money smarts among athletes, Walker participated in making a documentary that will come out next year titled
Gone in an Instant
. This film chronicles how he made, spent and lost mega, mega bucks while playing 12 seasons in the NBA from 1996-2008 and how this has impacted his life. Walker filed for Chapter 7 bankruptcy back in 2010 and says he's out of debt, but it has cost him in many ways.
Out of the $112 million he earned in 13 years with the NBA, here's what some of it went to:
♦ $55 million in taxes ate up 49% of his earnings
♦ $11 million was spent on homes
♦ $9.5 million went on business deals
♦ $9 million went to support his family
♦ $8.5 million went to an entourage of hangers-on
♦ $4.2 million to attorneys and agents
♦ $4 million was lost to gambling
♦ $3.75 million went to relationships (mostly Evelyn Lozada)
♦ $2.5 million went to charity (not a lot all things considered)
Walker says, "
I wanted to be one of the ones to step in front of my story and tell of how I ended up losing my wealth and make it a positive thing. I think sometimes everybody looks at it as a negative thing, but I want to make it a positive thing and one, let people know how I lost my wealth, but also educate the new guys coming into the league and make sure they don't make the mistakes that I made.
" He has talked in the documentary and in interviews about one critical and very personal thing his financial troubles have cost him – the loss of the love of his life –
Evelyn Lozada
. She was a star on reality show Basketball Wives when they were engaged but when he went broke, she headed for the door and hooked up with NFL pro Chad Ochocinco (aka Chad Johnson). After she divorced him, she wed MLB star Carl Crawford. (On a side note, if Lozada marries a hockey player and NASCAR driver, she'll be a pentathlete in the athlete relationships department.)
The
real estate crisis and the recession
hit hard because he had some investments in real estate and the loans were called in – he says that caused his downward spiral. He also says one of the issues is the lavish lifestyle he enjoyed and that it costs a lot to maintain that lifestyle. Walker says he blames himself and said it's tough to play sports and make investment decisions because you can't stay on top of things.
We look forward to seeing the documentary next year and hope it will be informative for those that are struggling with their money. What we see looking at Antoine Walker's tale is similar to what we see with many clients in our office, just on a smaller scale. Walker isn't working in a high-earning field like he was before – this happens to many people.
He took a hit when the real estate market tumbled – many of our clients saw their equity disappear and found out they were now upside down on their mortgages. Walker also cites the recession with causing troubles and we see that a lot with our clients – this manifests itself with job losses, increases in debt and loss of value of assets. It's reassuring to know that even big celebs can go through the same financial aches and pangs the rest of us do.
If you're struggling to pay your bills and your income isn't what it used to be, Chapter 7 bankruptcy can give you a financial fresh start. If your earnings are okay, but you've fallen behind on your debts and need some breathing room to get caught up, a Chapter 13 can help.
Contact the law offices of John T Orcutt
for a free consultation on getting slam dunk help with your debt!