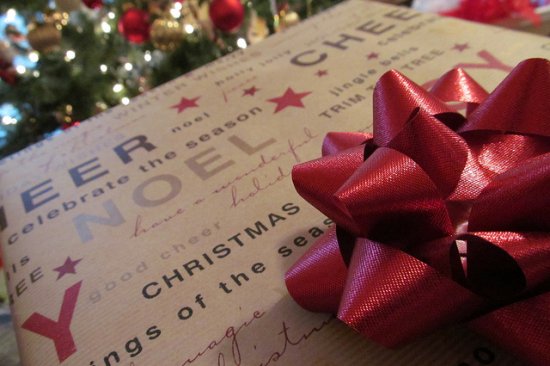 Christmas comes with great expectations, particularly if you have kids that want a pile of presents. But to keep your spending under control, you need to
set a firm budget
and stick to it. On average, most families
spend around $800
on Christmas allotting roughly $222 per child and per spouse. But if your child is hoping for a new iPhone or a game system, that money might not go very far toward their wants. Today we'll look at some tips to have a cheaper Christmas without dialing down the fun.
#1 Establish Expectations
No matter how large or small your holiday budget, you should let your children know ahead of time what requests are reasonable and which are out of reach (either by your money limit or because you don't want to spoil them). If you have younger children, they may default to asking Santa for a gift if you tell them no on something, but you can address this simply by telling them Santa has a budget too.
Older children may be satisfied to receive one costlier gift while younger kids are more likely to be happier with a number of presents to open. Review your kids' wish lists and talk through them ahead of time to make it clear what may or may not be under the tree so there are no hurt feelings. And don't worry too much – kids change their minds constantly about what they want so they'll likely be happy to have some of what's on their list.
#2 Set a Budget
Your family's gift lists should not be what determines your budget – it should be what you can afford – preferably without tapping into credit. It can be tempting to swipe your plastic to pay for the holidays, but this will leave you with a spending hangover in January. Instead, figure out what disposable income you can reasonably devote to the holidays and set your budget based on this.
To have a more robust budget, consider taking on some extra hours at work or even a part-time job to help out at the holidays. Also,
read this post
on last minute payroll tips to see if you have an opportunity to boost your take home pay in the last months of the year. Cash spending is the best approach for the holidays if you can manage it and there are ways to accomplish this without having to wait until the last minute to shop. See #3.
#3 Get the Most Bang for Your Buck
Once you have your budget, you can start planning your shopping even if you won't have all the money in hand until year end. See which stores offer free or low-cost layaway then browse their sales fliers for deals on wish list items and put them on hold so you can make payments each payday and still have the gifts in time for Christmas.
Black Friday and Cyber Monday are just a month away and that's often a great time to score low cost deals on most-wanted items, although it can be a huge hassle. Having some cash on hand to take advantage of these competitive offers is also a smart strategy. WalMart offers a price match so you can often get other stores' best prices there.
WalMart also offers a cool new tool called
Savings Catcher
where you scan your receipts and if they find a lower price elsewhere, they give you back the money. It accumulates on your app and then you can download it to a gift card once you're ready to spend. This app could save you big bucks over the holidays when competitors put products on deep discount.
And if your kids are asking for electronics, consider buying them used on Amazon or Craiglist. When buying from Craigslist, be sure to test the product before you hand over the money as they don't offer returns or exchanges. This can be a great way to get a game system or last-gen tablet or iPhone at a deep, deep discount and your kids will be happier with a used item than not getting it at all. Plus, it teaches them a good waste not, want not lesson.
#4 Limit Gifting for Non-Immediate Family
One of the ways to cut your budget is to minimize what you spend on others outside of your immediate family. For extended family and co-workers, consider a name draw so that everyone gets a gift, but no one has to go bust giving to absolutely everyone. If this isn't an option, consider giving out baked goods to co-workers and offering gift certificate services to family members (babysitting, housecleaning, airport pickup/dropoff, carwash, etc).
#5 Share Gift Ideas with Extended Family
Another way to clear more items off of your kids' gift lists is to share the gift list. If your kids routinely get stuck with gifts they don't like because aunts, uncles and grandparents are guessing what they want, help them out. While you don't want to look like you're gift-seeking, it's certainly reasonable (and likely welcome) if you offer gift ideas to those you know will be shopping for your kids.
Another way to go about this is to set up a
public Amazon wish list
for each of your kids and load items on it that you know you won't be purchasing. Then when you send out emails to make holiday plans you can casually mention that there are wish lists on the web if they need any gift ideas. Most will likely welcome the help in selecting gifts they know will be appreciated.
Remember, your budget shouldn't determine how happy your Christmas is and with some planning and determination, you can deliver a great holiday to your family without breaking the bank.