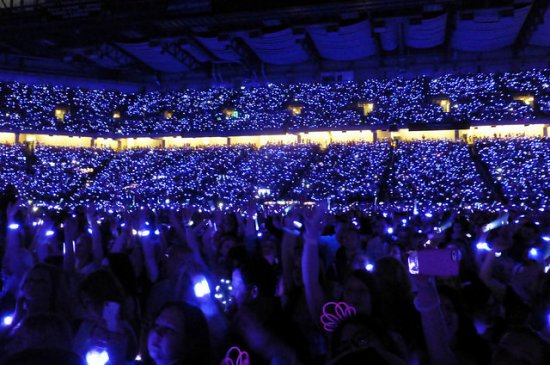 Taylor Swift is on her 1989 tour, and that means tweens and teens (and even some unabashed adults) are excited about scoring tickets to her sold-out shows. Swift performed at the PNC Arena for a packed house in June and will be back to the Greensboro Coliseum in late October. Unfortunately, many superfans have been scammed with fake Swift concert tickets that have left them cheated out of hundreds of dollars and blocked from the concert they desperately wanted to see.
North Carolina Taylor Swift concert ticket scam
For Swift's PNC Arena in Raleigh, there were at least 30 fans that found out they had been scammed and sold fake tickets to the show. And many more bought tickets in scams and never received even a fake ticket. Sold out shows are a prime target for scammers because they know that fans are willing to pay big bucks to often shady sources in hopes of landing a ticket.
Craigslist is the most common venue
for bogus ticket sales.
Ads were placed with photos of fake (or real) tickets, money collected then the tickets never traded hands. One of the more brazen scams occurred when the buyer met the seller outside the PNC Arena and paid for the tickets but was given counterfeits. When the buyer went to enter the Arena, they were sent away and told their tickets were no good. One scam victim said, "I was really disappointed in the humanity of that guy... Probably the first person that bought that ticket got in and then all the rest of us with that ticket, it had already been scanned."
How to Avoid a Ticket Scam
The best way to avoid being scammed with concert tickets is to buy from a legitimate seller such as Ticketmaster, LiveNation or directly from the box office. But if the concert sells out, fans often turn to other sources to try and buy tickets to a sold-out show. In this case, here are some tips to protect you from a scam:
Only use a trusted reseller – VividSeats.com and TicketExchangebyTicketMaster.com are two that are legitimate
Meet in person to purchase the tickets – but know that it can be difficult to tell the difference from a real ticket and a bogus one
Purchase with a credit card – if you buy with a credit card, you can always file a complaint and block the transfer of funds
Check the seller's reputation – Google the reseller to see if there are scam notices or negative reviews of their activities
Be Sure to Report Scams
One of the victims of the recent Taylor Swift concert ticket scam in Raleigh was lucky. She tweeted out about being cheated and Swift's opening act saw her post. That band sent the girl front row seats to make up for the tween being ripped off – but know that's not likely to happen in most cases. While it won't help you get into the show, it's important to report these scams to the authorities to prevent it from happening to someone else.
If you paid via PayPal, also be sure and
file a dispute with PayPal
– you may be able to get the scammer's PayPal account shut down. In North Carolina, also contact the
North Carolina Department of Justice
. If you buy tickets in person, snap a photo of the seller and ask to see their identification and snap a photo of that too in case the tickets turn out to be fake. With that in hand, you have enough evidence to go to your local police as well. And asking to take a pic may give the scammer second thoughts about defrauding you.
Please read the original post on our affiliate site,
BillsBills.com