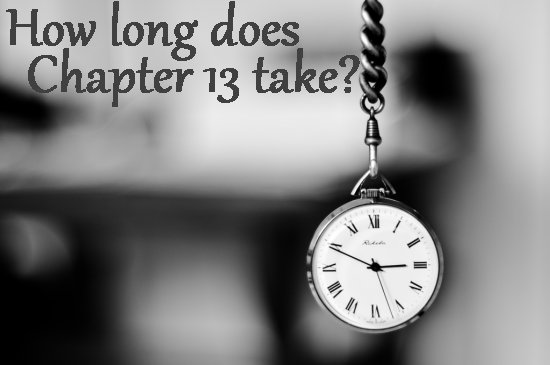 When the average consumer files for bankruptcy, they typically choose between Chapter 7 or Chapter 13. Consumers with more than a million dollars of debts may also pursue Chapter 11. Today we'll look at Chapter 13, the more complex of the two common consumer bankruptcy chapters. Start to finish, Chapter 13 can take anywhere from three years to five years. The upside to Chapter 13 is that you should be current on all your obligations by the end of the plan while still retaining all your assets. The downside to Chapter 13 is that it can be arduous because it requires you devote all your disposable income to paying down your debts for three to five years. Here's a look at the timeline for this type of bankruptcy.

Step 1 – Find and Hire an Attorney
The first step is to find a reputable and experienced bankruptcy attorney whose practice is devoted solely to bankruptcy. Chapter 13 is not something you want to try and file on your own because it is complex and you must submit a detailed repayment plan for Trustee approval. This can be hard for the average person to do without expertise. Look for a local law firm – not a national firm that's not devoted to the local market. You may also want to meet with several attorneys – most offer a free consultation – to see which one answers all your questions, gives you their complete attention and doesn't try to push you one way or the other but instead offers you informed advice based on your unique circumstances and preferences.
Time to accomplish: A few days to a few weeks depending on how much time you devote to it.

Step 2 – Pull Together Your Documents
You'll need to submit documents to your attorney which are then submitted to the bankruptcy court and the Trustee assigned to your case. Your attorney can't give you proper advice without seeing your financial information. Any lawyer that tells you that a Chapter 7 or Chapter 13 is best for you without knowing your particular circumstances is not giving you informed advice and is not a lawyer you want representing you. You need to bring in your most recent tax filing, your most recent W2s, your last few months of pay stubs and bank statements, copies of mortgage and car loan documents, your utility bills, copies of medical bills and anything that proves your income and expenses.
Time to accomplish: A few hours to a few days depending on how organized your records are.

Step 3 – Meet with Your Attorney to Prepare and File Your Petition
Your attorney will usually prepare your petition while you're in the office with them so they can ask you questions and review your documents while they complete the forms which are then submitted electronically to the bankruptcy court. This will take a couple of hours (give or take) to accomplish. You also must complete a pre-bankruptcy financial counseling session online or over the phone prior to your attorney clicking submit on your forms. This can be done in advance of your attorney appointment or while you're in their office so long as it is with an approved provider.
Time to accomplish: A few hours including your pre-bankruptcy counseling.

Step 4 – Begin Making Your Plan Payments
Within 30 days of your petition filing, you will start making your repayments according to your proposed plan even though it hasn't been approved. Your Trustee will hold the payments in escrow until the plan is approved and then distribute them to creditors. You will also make your normal payments for your mortgage and auto loans. Other debts like credit cards, medical bills and back balances on mortgage or auto loans are all paid through distributions from the Trustee.
Time to accomplish: Repayment plans last three to five years.

Step 5 – Meeting of Creditors
Both you and your attorney must attend the meeting of creditors. This is the opportunity for creditors to object to your Chapter 13 repayment plan and is sometimes referred to as a 341 Meeting of Creditors. This meeting will occur between 21 to 50 days after your petition is filed. Often, no creditors will show up to the meeting to long as the proposed repayment plan is fair and conforms to the rigors of the bankruptcy code. If you fail to attend, your case will be dismissed.
Time to accomplish: This meeting takes place at the courthouse and typically lasts only 15 minutes or so. You may have to wait an hour or two before hand depending on how many meetings are on the docket.

Step 6 – Confirmation Hearing
This is a step of your bankruptcy that your attorney takes care of without you. The Trustee assigned to your case reviews the repayment plan your attorney has prepared and either approves it or sends it back to be revised. This is why it's important that your documentation provided is thorough. The judge may ask questions about your plan as well. If none of your creditors object to your submitted plan, you likely will not be required to attend this hearing. This takes place 20 to 45 days after your meeting of creditors.
Time to accomplish: This should not take up any of your time.

Step 7 – Debtor Education
In addition to pre-bankruptcy counseling, you also must complete a debtor education plan prior to making your final repayment plan installment. It's smart not to wait but to go ahead and get this take care of early. This can be a helpful tool in creating a budget and sticking to it to help you stay on track for the course of your repayment plan so you get the best results from your Chapter 13.
Time to accomplish: This course can be taken online from home and generally will take just a few hours.

Step 8 – Discharge of Debts Hearing
Once you make your last payment, there will be a discharge hearing where the judge reviews your repayment plan and payments and verifies that you satisfied all requirements. Typically, your attorney can go to this meeting without you. Any remaining balances on qualified unsecured debts will be wiped out with your discharge. You should walk away from a successful Chapter 13 current on your mortgage and car loan and, otherwise, debt-free.
Please read the original post on our affiliate site, BillsBills.com