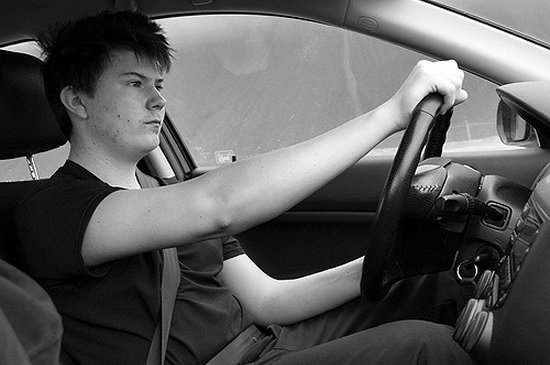 New FICO score rates your driving Image Source: Flickr User Atli Harðarson
When you think about FICO scores, you probably just think about your credit rating, but a new score rates you as a driver. Here's how this new FICO algorithm works, why you should be concerned, and how it might affect your financial bottom line.  

How Does the FICO Driving Credit Score Work?
Like the FICO
credit score calculation
that evaluates behaviors such as paying your credit card bills on time and not maxing out credit lines, the FICO safe driving calculation parses a score based on observations about your driving behavior obtained from an input device.
With the FICO Safe Driving Score, the input is from an eDriving app installed on your phone that captures occurrences of acceleration, braking, speed driven, cellphone usage while driving, cornering velocity, and other driving info.
The score then rates how safe of a driver you are—the more you stick to speed limits, stay off your phone while driving, and avoid slamming on your brakes and peeling out around corners, the higher your rating will be.  

Who Will Use the FICO Credit Score for Drivers?
When FICO (Fair Isaac & Company) announced the new score, they also revealed that they have formed an advisory board consisting of insurance companies, car makers, incident and risk management firms, and fleet managers.
Fleet managers could use the score to assess drivers before they hire them to make sure they'll be handling their vehicles safely and not putting the company and its payload at risk from unsafe driving, but they're not the only target.
This calculation is also aimed at parents of teen drivers. Although teens might not like the idea of their parents snooping on them digitally, it could give parents some peace of mind to know that their inexperienced teen drivers are following the rules of the road.  

Safe Driving Scores are Already in Use
Progressive Auto Insurance has a device called Snapshot that attaches to your vehicle's OBD-II port under your dash. That's where your auto shop attaches its computer to assess diagnostics when one of your dash alerts lights up.
Once you install it, Snapshot not only records your driving behavior but also sends you alerts to help you drive better, such as beeping when you brake hard because you might have been speeding or following too close.
But it's not just Progressive that may offer better rates to safer drivers. Allstate Drivewise app does much the same thing as the Progressive tool but is smartphone app based. Esurance DriveSafe is aimed at insurance customers with teen drivers to help them keep an eye on their kids behind the wheel.  

Driving Safely Can Save You Money
As the FICO safe driving score gains ground, you might find yourself paying higher (or lower) rates based on your driving habits. Also interesting is that, in many cases, drivers with a DUI on their DMV record but excellent credit can pay less for car insurance than safe drivers with bad credit.
Car insurance providers often require a credit check because studies show a correlation between poor credit and poor driving. A study published late last year by Consumer Reports showed insurance premiums were higher by $50 to more than $500 a year for those with lower credit scores.
It pays to be a safe driver and have good credit for many of your living expenses such as utilities and auto insurance that may affect the rates you pay on your credit score. To find out more about improving your credit score after bankruptcy, contact Credit Score Keys today!