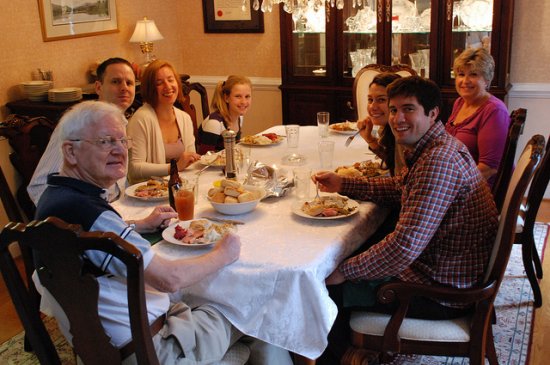 A big Thanksgiving can be costly to put together, particularly if you host a lot of friends and family for the big day. If you're on a budget – like most people – you don't want to spend a fortune on the meal, but you also don't want to disappoint your diners. And, since
Black Friday
offers some of the best gifting deals, it would be nice to have some money left over to shop. Check out these six tips to spend less on your meal without skimping on the celebration.
#1 Let others pitch in
– First, don't say no to guests that want to pitch in, but do coordinate the efforts. You don't want three people bringing mac and cheese. Instead, think about who's coming and their signature dishes. If your Aunt is renowned for her pecan pie and she offers to make something, remind her that everyone loves her dessert. She'll be flattered and that's one less dessert for you to make. A potluck Thanksgiving is cost-effective for everyone and, if you have plenty of guests coming, you may be able to provide just the turkey and let everyone else do the desserts and sides.
#2 Skip the soda
– Serving sodas, wine or other boozy beverages can quickly increase the costs of your get together. Instead, make up pitchers of homemade tea, lemonade and keep the coffee maker churning. Also put out pitchers of iced water with lemon slices. No one will go thirsty and you'll save big. This is also much easier on clean up than dealing with a ton of cans and bottles. Be sure to let your guests know it's BYOB or put the kibosh on alcohol altogether if you've got someone in the family that turns up the drama when they drink.
#3 Buy frozen and large
– Large turkeys are cheaper than smaller ones and if you really want to get thrifty, buy frozen. Frozen turkeys are 30-40% cheaper than fresh and there is no difference in quality. In fact, frozen turkeys are safer and tastier.
Frozen turkeys
are flash frozen immediately after butchering while fresh turkeys have sat around for many days and so are not really "fresh." Just be sure to allow yourself time to thaw it properly. Turkeys should be thawed in the fridge (not out on the counter). Allow one day of thawing for each four pounds of turkey weight.
#4 Buy ahead
– Some Thanksgiving staples may go up in price closer to the holiday, so don't be afraid to buy ahead. If you have freezer room, you can actually buy your turkey months in advance. Canned foods like cranberry sauce can be bought well ahead. Keep your eye out for sales and coupons for items you know you'll need such as bread crumbs for stuffing, frozen pies (if you don't bake), whipped cream for desserts, paper goods and other items that will keep until they're needed. Also watch for sales and coupons for décor.
#5 Don't overbuy
– You may want a few leftovers, but you don't want piles of food left over after Thanksgiving. Buy 1 to 1 ½ pounds of turkey per person unless you're also serving another protein. Bottom line, buy this amount of protein per person. For mashed potatoes, plan on one medium sized or two smaller potatoes per person so you don't end up with a pile of potatoes left over. 1/3 to 1/2 cup of cranberry sauce per person will do. Check out this
Food Network portion planner
to make sure you don't waste money overbuying.
#6 Go green
– You may be tempted to splurge on paper plates and cups to make clean-up easier, but this can quickly bump up the cost of your big dinner. Instead, break out the fancy china – the stuff you save for special occasions but then never bother to use. Pull out the good glasses, cloth napkins and tablecloths and only put plastic stuff at the kiddie table. Sure you'll have to do some dishes, but you can farm that out to those that didn't cook or the teenagers. This will save you from pounds of trash and is a
more eco-friendly
way to serve up your savory goodies.